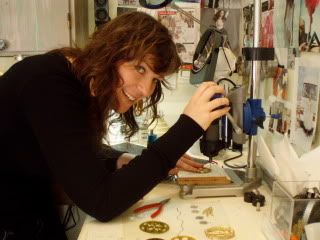 It's an early Tuesday morning and Betsy Cross is in her artist's workspace creating her eye-catching line of Betsy & Iya jewelry.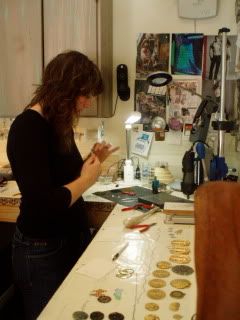 Betsy is just one of the hard-working, talented independent artists I love to showcase in my boutique.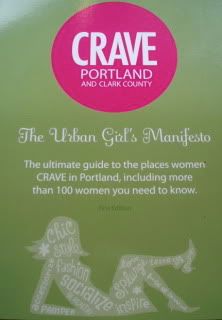 Whoo-hoo, the new Crave Portland book is just out...
So the best part of my job is meeting the artists, watching them in their studios, and buying beautiful new pieces for my boutique. This morning, bright and early, I drove over to meet the artist, Betsy Cross in her artist's workspace in NW Portland. She's the darling genius behind Betsy & Iya jewelry, and I happened to see her last night as we both were invited to a CRAVE book launch party that showcases women in biz, "The Urban Gal's Manifesto: The Ultimate Guide to the Places Women Crave in Portland, including more than 100 women you need to know." Long title, I know...but I bet they could sell more books that way. :) We both giggled about how many books we each have, 50 copies! What on earth are we going to do with 50 copies each? Anyhow, I was delighted to see that Betsy was at the book launch party and we planned on meeting today so I could pick out new pieces.
And here are a few of the new pieces I choose: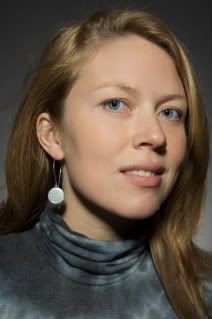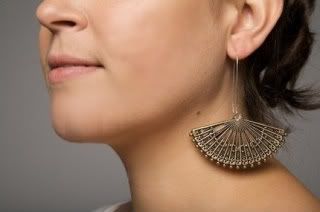 These fans were used by the graceful woman in times when staying dry was a feat of beauty. They remind me of the fans used by wise women so perfectly dancing to Cuban music in Mexico City.
Vintage reproduction brass large fan. Sterling silver hand formed long ear wires. Fan measures 2.5" by 1.25". Whole earring meaures 3.5" long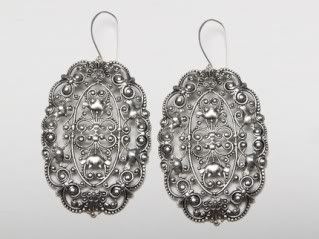 These sassy yet feminine earrings are for the strong woman. And I know you all are...so enjoy a simple reflection. Old silver plate-like filigree hunks of design. Sterling silver hand-formed ear wires: 4" long.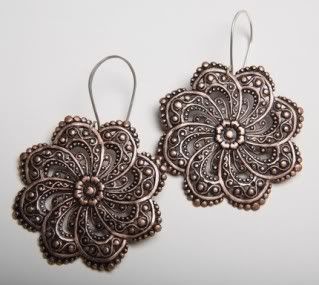 These copper intricate flowers are as strong as they are
delicate; they remind me of Elizabeth. Fiercy beauty, intricate detail.
These pieces are light and large with my signature hand-formed sterling silver ear wires. Copper piece is nearly 2" in diameter. Measures about 3" long with ear wires.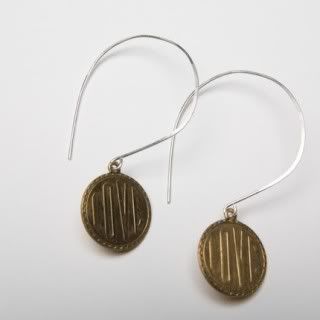 Vintage "LOVE" charm in 60s/70s style font paired with my signature sterling silver handmade ear wires formed into larger hoops. charm measures: 6/8"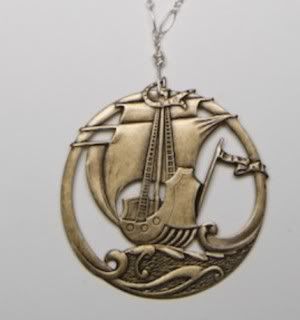 For the Love of Stormy Waters necklace:
This beautifully detailed ship piece, drilled to perfection is hand wired to hang from a beautiful sterling silver chain.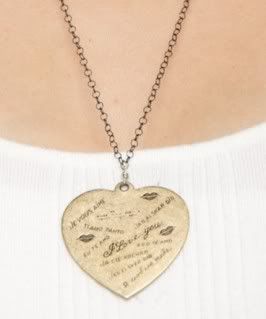 Universal Language Necklace:
Love is part of a universal language. This necklace says so. Multiple languages say, "I love you," in their own words on both sides of this hunka hunk of oxidized brass heart loveliness. Oxidized (darkened) sterling silver chain. Sterling silver hand-formed clasp: 30"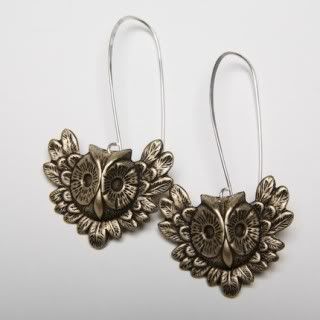 These brass owls have knowledge you can only grow into. That's why you wear them on your ears, to acknowledge that you're reaching.
Or just because they look cool. Awesome brass oxidized owl, sterling silver hand-formed ear wire. Measures: 2.25" long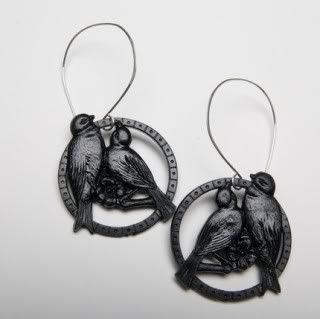 The Quintessential Lovebirds earrings: These vintage birds, circa 1960s, are solid lucite and reversible so that the birds on the back are the mirror image of the birds on the front. Each piece is approximately 40 mm.
These designs are found at my boutique and on my always-open website www.annebocciboutique.com along with many more pieces from independent artists.
In the new CRAVE book, Anne Bocci Boutique & Gallery is on pages 14 and 15. (Sweet)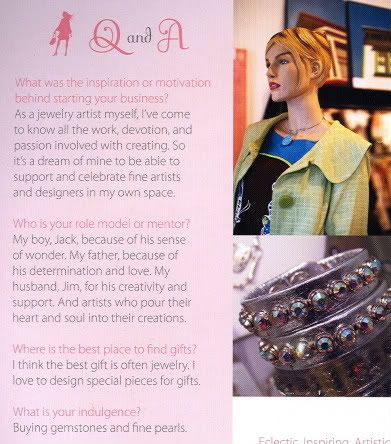 Please, mosy on over to my website: www.annebocciboutique.com