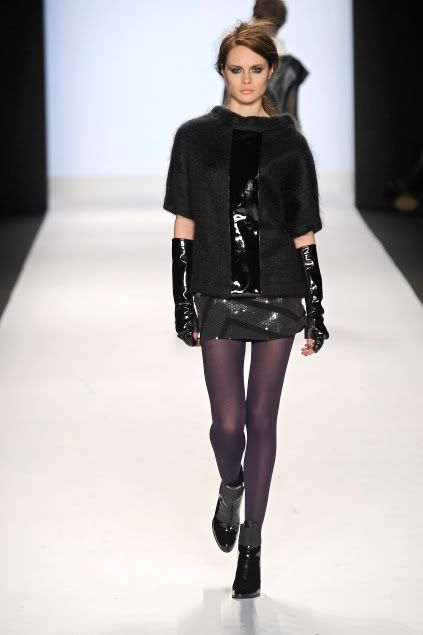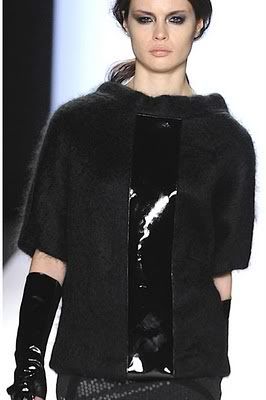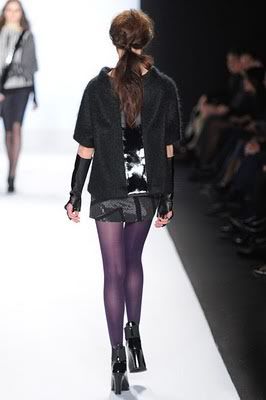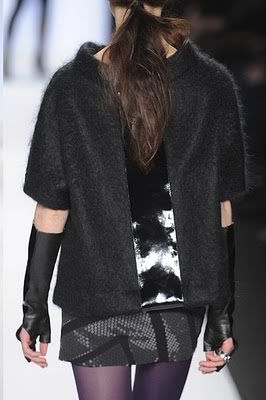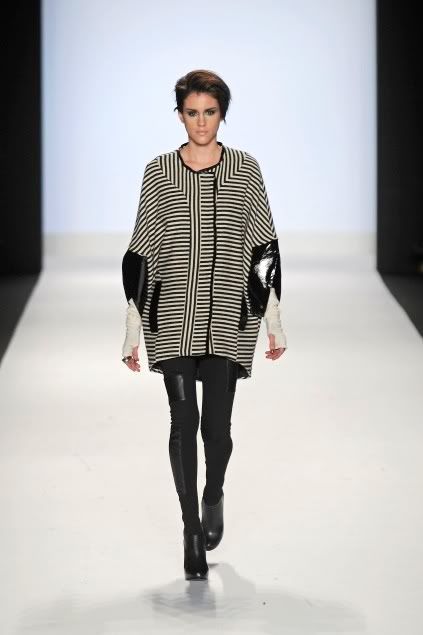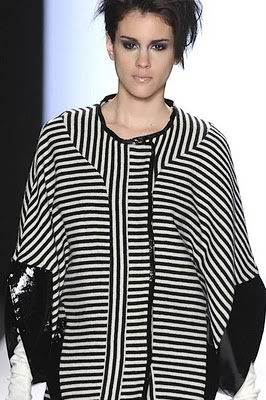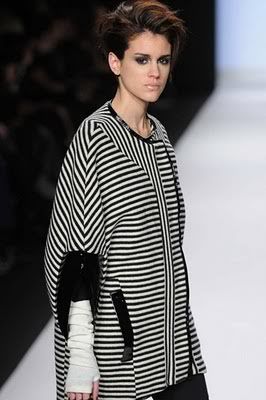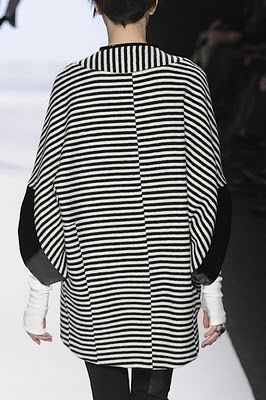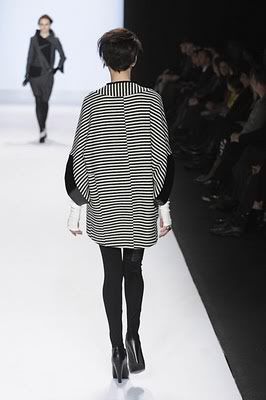 Having Project Runway withdrawals? Now you can own a piece of history and look pretty darn mod doing it! I adore this mod sweater made of mohair and genuine patent leather. These actual runway ensembles from the New York Mercedes-Benz Fashion Show are available at my boutique. Judge Michael Kors stated that he was turned on by the pops of shine in Mila's collection - like on this cropped mixed media ensemble. Head to Anne Bocci Boutique for these authentic runway ensembles.
You will receive this ensemble, the actual design of Mohair and patent leather sweater, leggings, gloves and even rings by Mila Hermanovski from Bryant Park Runway Show.
http://annebocci.com
Even at the finale party Project Runway winner, Seth Aaron Henderson and Tina, his wife were singing the praises of Mila's collection. They both loved it. There is a similar sense of chicness and in-your-face style to both collections. But why compare them? Because despite how it shook out in the judging, Tom and Lorenzo, bloggers for Project Runway feel that Mila was a very close second to Seth Aaron Henderson's win. Both collections were very strong and very cohesive.
The details on this black and white coat were provided to me by the designer, Mila Hermanovski, herself. Just a note: the final three designers, Seth Aaron, Mila and Emilio were each allowed $9,000 for their ten looks, so this is a quality piece made from nice materials. Mila says, "This gorgeous wool jacket can fit anyone from a 2-6. It comes in a bit at the hip/hem. The coat is VERY finished...100% wool with REAL patent leather trim/cuffs, fully lined, working pockets. Hidden jumbo snap closure."
Judge Michael Kors commented that Mila "killed the girl dancing the Frug in a cage and made her oh-so-modern and desirable." Now you can capture the best of the 60s with this sassy striped ensemble from Mila's collection.
* Color: Black and White
* Fit: Slim.
* Note: These are the actual, authentic, and one-of-a-kind pieces directly from the Project Runway Season 7 designers and worn on the runway at Bryant Park. Due to the nature of the challenge, an item may be unfinished and is sold "as is." All items are final sale.
* Each designer was allotted $9000 to develop their looks, and each designer put his/her heart and soul into making each pieces. Here's an opportunity to own a piece of Project Runway history.
Here's your chance to own THIS actual runway ensemble. One of Mila Hermanovski's collection from the Byrant Park/ NY Mercedes-Benz Fashion show.
http://annebocciboutique.com
http://annebocci.com
has also showcased the winner, Seth Aaron Henderson since the day she opened, 3 years ago. Plus, she's known for stunning jewelry, Suzabelle, and supporting indie artists.
Anne Bocci Boutique & Gallery
7824 SW Capitol Hwy
Portland, OR 97219
503.452.3711
http://annebocciboutique.com