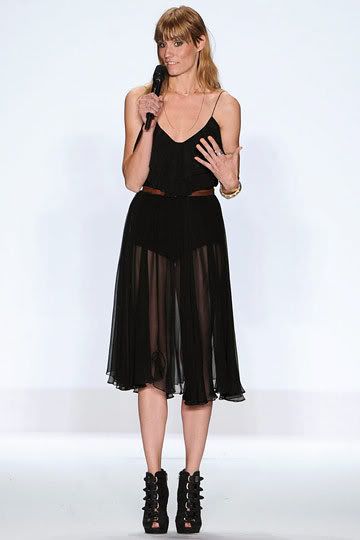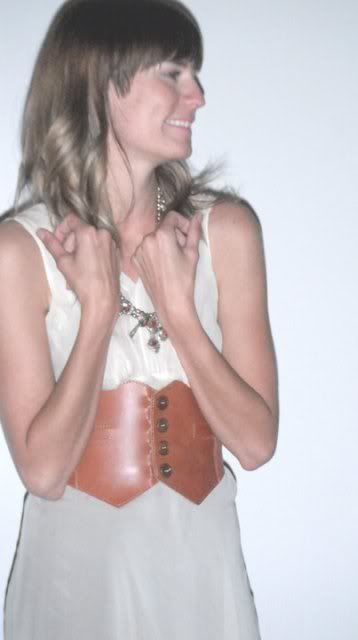 Gretchen Jones, at her viewing party in Portland, OR, the evening she was nationally named the new winner of Project Runway, Season 8.
Photo: Anne Bocci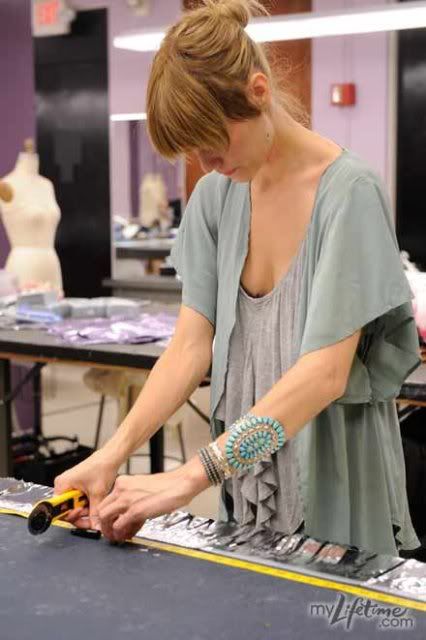 Gretchen was such a sweetheart to send her Moth Love Design, this Silk Crepe de Chine wrap top shawl to my
boutique as part of her promotion.
It's totally boho chic, and looks great belted, too.
Butterfly Sleeve Cardigan/Shawl – Retail Price $256
Hand Dyed w/ Low Impact Dyes
Untreated Silk Crepe de Chine Wrap, Sourced Domestically
Produced Locally in Portland OR.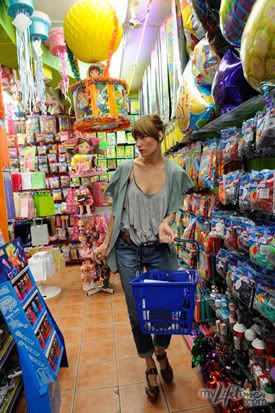 Gretchen Jones' silk wrap looks great belted on the mannequin.
Gretchen Jones of Portland, Oregon wins of Project Runway, marking the 3rd Portlander to win, but not without controversy.
Bright lights. Big City. Portland, Oregon just received another shout out in the international fashion community with Gretchen Jones' controversial win in the hit show Project Runway, Season 8. The popular reality show hosted by Heidi Klum pits contestants against each other as they design and sew their hearts out each episode. And this season 8 wasn't without controversy.
The producers edited Gretchen as headstrong and opinionated especially in relation to her fellow milder-mannered finalists, Mondo and Andy. In retrospect, Mondo was seen as the quirky fan favorite. His whimsical, colorful designs stood out and personal HIV admission melted the hearts of the viewers. Andy's strong Hawaii ties were seen in his strong resort pieces. Season 8 shows moments of upheaval, dissent, and ranting video blogs. "The judges must be a bunch of crack smokers," reiterated Tim Gunn in his now famous video blog. Gunn even vocally criticized the show's producers. His scathing video splashed over the internet and then just as quickly disappeared. And then there's Tim Gunn's famous diatribe siting Gretchen as manipulating certainly didn't help her fan base.
And then Gretchen Jones takes home the crown. The assertive, hungry Portland designer comes out on top after all.
Had the producers swayed us into thinking it couldn't be? Were we to feel duped? Mondo was the forerunner, he was a nose ahead at the finish.
It was if the producers embraced Mondo, wooed him, kissed him and then rolled over in bed to hook up with Gretchen. And she got the china to boot.
At the final critical moment, the judges decided to love Gretchen's styling and sustainable easy pieces, just as they did at they beginning of the show. Michael and Nina's influence swayed Heidi in the end.
Please no tears for sweet Mondo. His genius won't be deterred, he is already a winner in his own right.
Talk about rallying a nation of believers. His personality and talent will take him father than any title can.
Thinking about it, there were hundreds of hours of footage we didn't see. Word is Tim Gunn and Gretchen made up afterwards and as Gretchen says in the after-show interview, "I'm not a bitch, I just play one on TV." Yes, we all must remember what makes for great watching. The producers know this all too well and thus, pure snarky drama is born.
It's all about the editing.
Characters, personalities, saints and villains are molded and sculpted right before our eyes. It keeps us tuning in and rooting for our team, episode after episode.
It's r e a l i t y t e l e v i s i o n !
Gretchen sent pieces down the runway that would immediately sell right off the racks. She didn't dilute the runway with fancy masks, elaborate head pieces or zaniness. Just wearable street fashion. Even the jewelry was cool but not over the top. Flowing fabrics, muted colors, nothing over the top. It will sell in the pages of Marie Claire in an instant.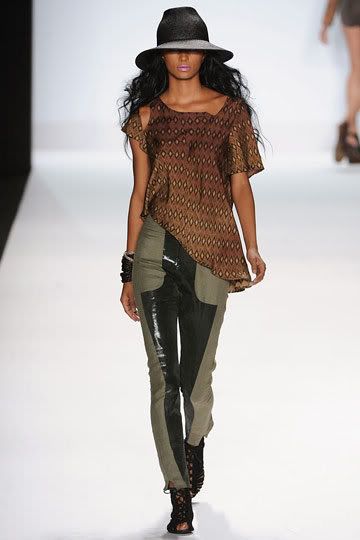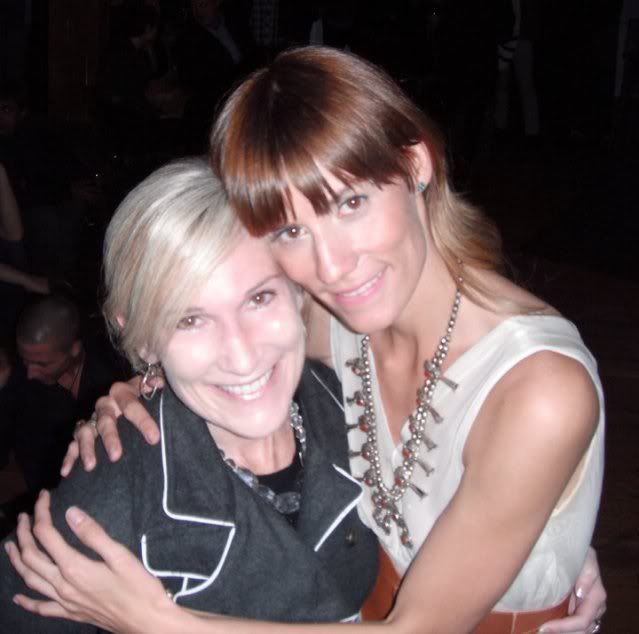 I got a bit of a different impression of Gretchen when I met her in person. As a guest at Gretchen's finale party, I met a very fun, genuine person, whose talent is strong. I'm so happy for her. Portland loves its savvy, homegrown indie designers.
I wish you the best! Thank you so much for allowing me to share your finale evening with you.
Not only that, Gretchen was kind enough to send me her silk design for my boutique. Her line has a flowey feel that actually will fit more customers than super fitted designs.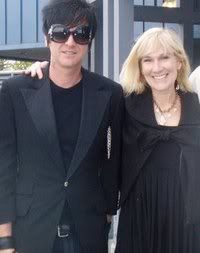 Seth Aaron Henderson was one of the show's most gracious winners (Season 7) and he lives just over the bridge from Portland, Oregon in Vancouver, WA, and he sells his designs at my
boutique
.
Season 7 also featured another Portland local, Janeane Marie Ceccanti, that did not win. Two seasons before that, season 5, was won by Leanne Marshall of Portland, Oregon.
Tim Gunn speaks out. After it is all said and done, Gunn says "Mondo will do fabulously anyway. Gretchen needs the money."
http://www.youtube.com/v/4PwvT9xaLO4?fs=1&hl=en_US
">