Estate Camphor glass necklace with 14k gold-fill chain. Shown in photos above.
Oh, the stories this estate enamel
locket
could tell. Opens perfectly to capture your precious photos inside. Both sides are simply exquisite!
14 k. gold-filled with delicate 18 inch chain and clasp.
This Art Deco necklace is reworked and is in wonderful condition, now with suspended freshwater pearls. Shown in photos above! What a statement piece!
Estate Camphor glass
brooch
. Sweet little silver rhodium plated filigree, camphor glass and rhinestone pin.
This pin measures 7/8" X 5/8"
Lalo resin and bead ring on easy wearing elastic.
Citrine and freshwater pearl bracelet.
Yellow labradorite shimmers like sunlight.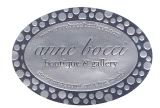 Diana Sell Photography |
www.dianasell.com
Model: Elizabeth Ruth Pettyjohn
Clothing Designer-JessieO
Make up and Hair-Jessica Belknap
Jewelry- Anne Bocci Boutique