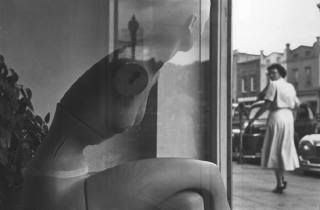 Right now, I'm sipping the closest thing to God in a cup and ruminating about what makes a store successful. Thank goodness my rent is manageable...that's all I can say.
I've just learned that two of my favorite Portland boutiques are no longer in business or closing for one reason or another. Mimi & Lena, a Portland staple, has recently closed its 19th and NE Broadway store and Olio United is closing its brick & mortar store on SW Water Street down by Clark Lewis restaurant and OMSI.
Owning a small biz is tough as anyone who has done it can attest. In today's economic climate, it's even more difficult. It's hard work daily, but so rewarding. My boutique is teeny, tiny, so therefore my rent is less. Do I wish I had a larger boutique? Sure I do, but after a good, long look at things, I'm happy with what I have. Maybe tiny is good. After a lot of reflection, and since my square footage is so small, I've decided to focus on my passion, carrying special accessories, and jewelry, and one-of-kind statement pieces. Nowadays, with bead stores mushrooming up on every corner like NW coffee shops, everyone calls herself a jewelry designer. But to me, jewelry is more than beading. So I'm focusing my attention on different, one-of-kind forged metal pieces, and elaborate gemstone statements.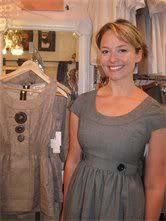 My customer, Sandra, is wearing this sweet Kensie jumper. It's fitted at the bust and at waist and free at hips. Decorative buttons at waist make the waist look teeny, tiny.
Darling as a summer jumper or layered over along sleeve top and worn as a tunic.
Side zipper...Blog readers can take $20 off and and get FREE shipping.
$98 - $20 = $78 plus FREE shipping.
My newest designs. I adore the gemstone labradorite... it's inherent grey nature reminds me so much of gloomy Portland, yet there's a glimmer and flash of sunshine in each stone.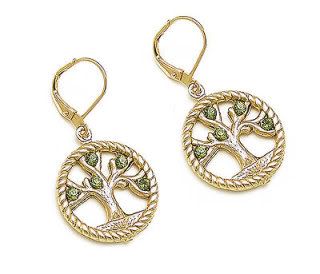 Olivine Tree Earrings ~ Clara Beau
Lovely little gold finish tree is detailed with olivine crystals. From Clara Beau. Earrings are 1.5" in diameter.
$26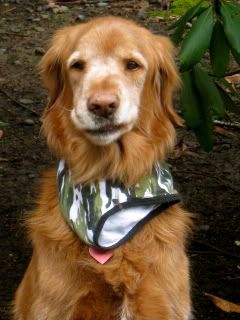 Mackie, the dog, wearing my boy's underpants, and not liking it one bit. Oh, how I find humor in simple things.
Here's my favorite SALE item...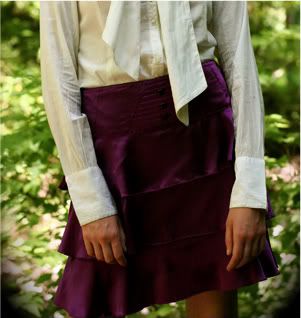 Suzabelle Viola Silk Skirt, WAS $138, NOW only $48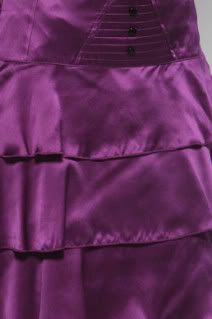 The Viola Skirt in violet silk is one piece you won't be able to resist. This fabulous 100% silk skirt has a wide waistband that is decorated with a ribbed pyramid and small black buttons. The main portion of the skirt has three wide flirtatious ruffles. Additionally, the central portion of the skirt has an under layer and back zipper. This jewel toned color will go perfectly with for favorite pair of heels, sleek boots or black Mary Jane's!
Suzabelle Viola skirt, $138 SALE $48
* Fabric Content: 100% silk
* Fit: fitted
* Color: violet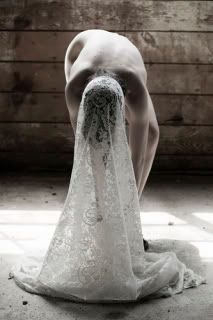 Elisa Lazo de Valdez is a photographer of the sensual and luxurious, gourmet cook and action movie addict. Rain invigorates and energizes her thus she loves living in the the Northwest. She's a commited photographer for over 6 years and a hobbyist 10 years prior to that. Her work has been described as sensual, erotic, surreal, dark, beautiful, inspired and just plain weird. I invite you to come and see her provocative photographs in my boutique/gallery.
Want to see more...Come on, it won't hurt a bit. Just mosy on over to:
http://annebocciboutique.com
Recent Tweets...
http://twitter.com/annebocci
Since bead stores popped up like nasty mushrooms on every street corner, everyone and his dog considers himself a "jewelry designer."
So sad, Mimi & Lena Boutique is closing. I remember the days they were on NW 23th in Portland. Probably an icky insurance agency will go in?
Gamble everything for love if you are a true human being. If not, leave this gathering.
Witnessing an unattractive trend right now. Men sporting tight little perms are prancing around proudly with wirey little rat-like merkins.
I know it's all about the 70s/80s right now, with brightly-colored paisley hues, Diane von Furstenberg wrap dresses, and Mid-Century Modern decor, right out of my Salem ranch house memory files...but please make this perm trend go away.