I worked with the models today choosing the fashions for the Annastasia Fashion Show, June 5, 2009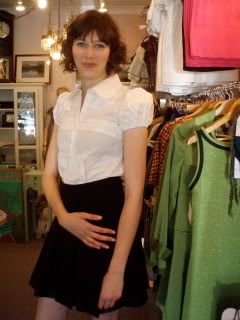 Liz is darling in this Kensie white blouse that's screams French chic, $54.
The school-girl sweet skirt, by Mac and Jac, is satin trimmed and only $76.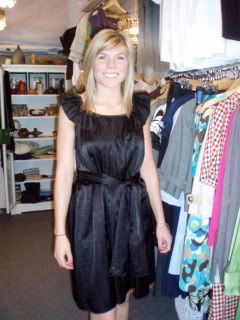 Local designer Seth Aaron Henderson's designed this black satin Nikki dress with tie, $140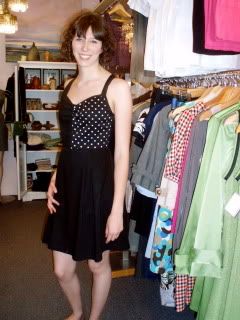 Liz is wearing local designer, Seth Aaron Henderson's rock-a-billy stretch poplin dress with hook and eye side closures, $140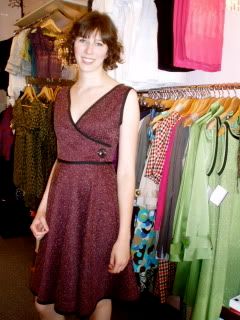 Liz is modeling local designer, Seth Aaron Henderson's Milly Jumper, $148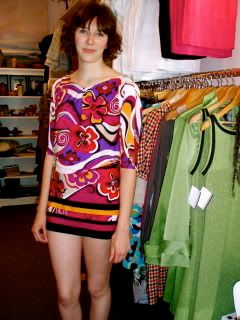 This Pucci-inspired dress is designed and hand-sewn with love by local designer, Renee Armstrong. Renee was the in-house tailor at Portland's renown Mercantile store before starting her own dress line.
$125 SALE $62.50
Clothes provided by my boutique... Anne Bocci Boutique.
Annastasia Salon Spring / Summer Hair and Fashion Show Le Meitour Gallery in SW Portland's lovely Multnomah Village
June 5, 2009
Champagne and Seating 6:30-7:00
Complimentary Seating by Reservation Only 503.293-5489
Featuring Hair and Makeup by Annastasia Salon
Fashion Provided Anne Bocci Boutique
Shoes by Switch Shoes
Antoinette Antique & Estate Jewelry
Action Fast Photo
Runway show at:
Le Meitour Gallery
7814 SW Capitol Hwy