Suzabelle's NEW Spring Collection is here.
Glory Be! FREE SHIPPING TOO!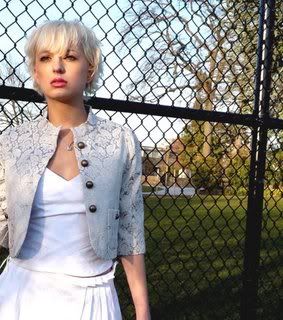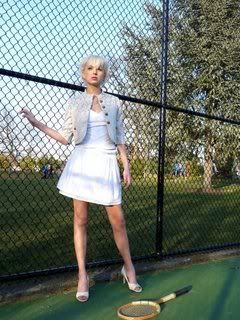 Loaded with texture and fun brass buttons, the Belleterre Cropped Jacket in this fresh pewter color is a lovely brocade jacket with silk lining. It has a mandarin collar as well as pockets on the front sides and 3/4 belle sleeves.
Sizes XS, S, M.
* Fabric Content: 50% cotton, 45% 45 polyester, 5% nylon
* Fit: fitted cropped
* Color: pewter
$183
SALE $159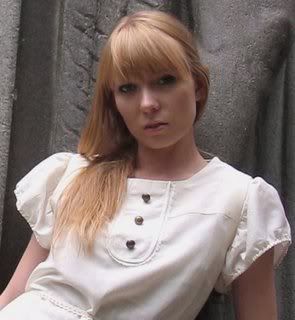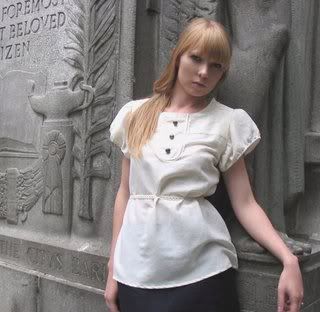 SWEET! That just what it is! The Clermont Blouse in Creme by Suzabelle features a double layered cotton-silk blend style blouse. It is created with flutter sleeves and a removable waist sash. Brass buttons decorate the front as well as a crochet-lace trim placket. Finally, a keyhole opening at back finishes this piece with a feminine touch!
* Fabric Content: 70% cotton, 30% silk
* Fit: fitted
* Color: creme
* Designer Style No. clermont
$152
SALE $129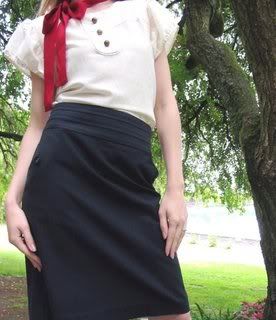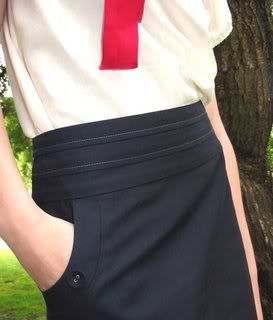 This sleek pencil skit pairs up perfectly with the sweet Clermont blouse and Mont Royal Jacket (below).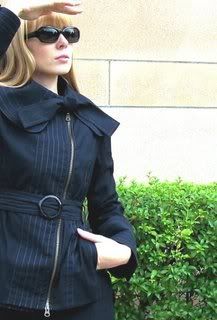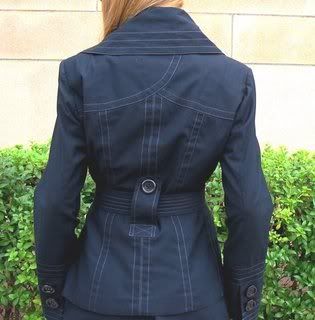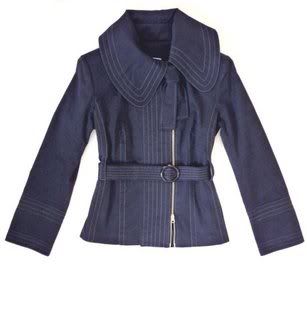 It's royal color is flattering and classic.
Sizes XS, S, M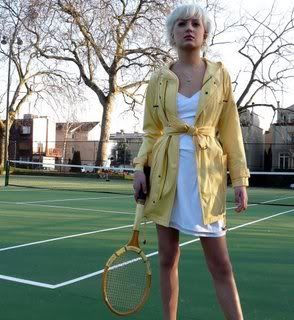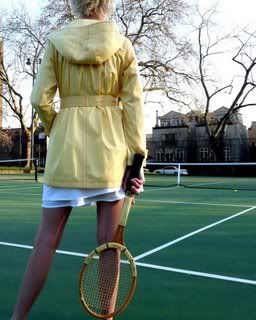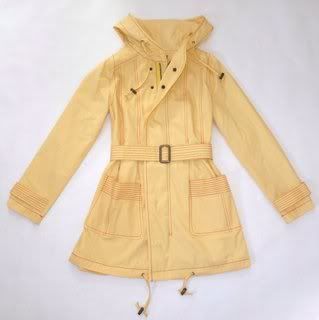 Can you say sweet butter creme. Oh, how this buttercup anorak jacket makes me smile and think of sailing, backyard picnics and easy-going sports. Just my kind of fun.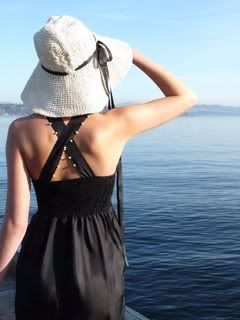 It's all in the details. This sweet dress is perfect for a spring getaway.
Oh, how darling coming and going... Feel soooo pretty in this Augstin Dress in Black crafted by Suzabelle. This silk dress has natural wooden beading on the edges of the straps. It it also equipped with hidden side pockets for your prized possessions. The front has an adjustable tie with keyhole at bust and finally the straps cross in the back for a complete look. A smocked back ensures a perfect fit to this flirty dress.
* Fabric Content: 100% silk
* Fit: comfortable, smocked back
* Color: black
$192
SALE $169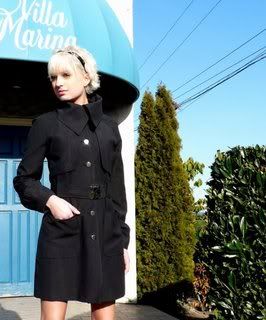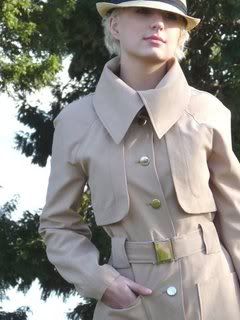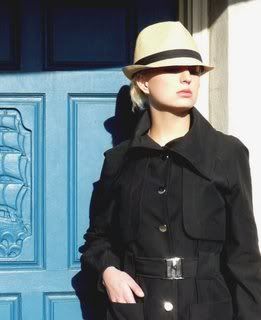 The Nicolet Trench Coat in Classic Black or Taupe by Suzabelle combines chic style with functionality. This piece has cool linen fabric with satin lining. The front is equipped with chrome buttons and buckle, as well as an adjustable belt. Finally, the fold over collar can we worn buttoned or opened.
* Fabric Content: 54% cotton, 46% polyester
* Fit: fitted
* Color: classic black or taupe
$285
SALE $259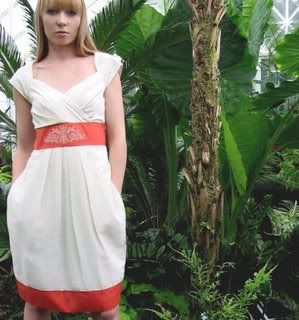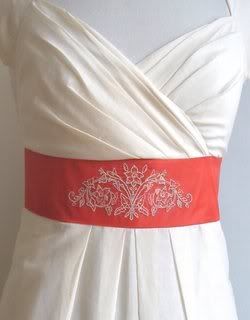 When I see this dress, I think of my girlfriends, Martine and Carolyn, who love ice cream hues of orange. Details at the waist makes this a summer party favorite.
This is the sweetest dress and lux fabric of cotton and silk.
Sizes XS,S, M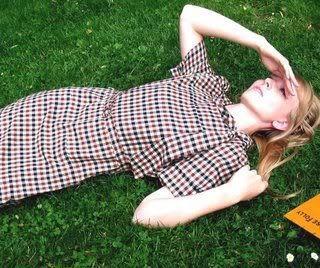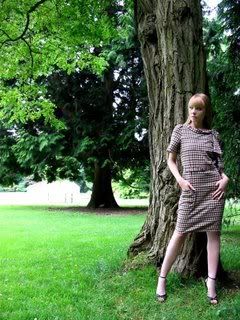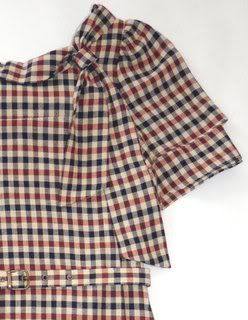 Hip and young. Darling styling that recons backs to the 40s. With matching fabric belt and two sweet buttons on the back of the collar.
XS,S, M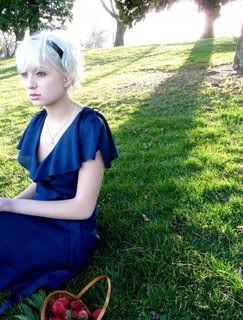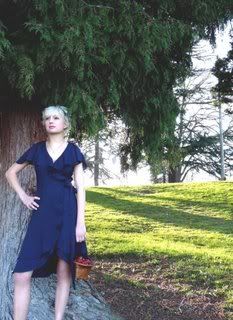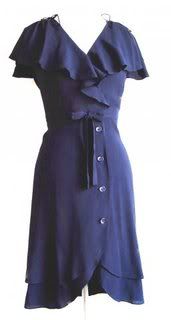 Truly stunning with a 40's flair of sweetness. Petals and soft dressing. A very "pretty girl" dress.
When the big brown box marked "Suzabelle parcel" arrived at my boutique, I was so excited to tear into it.
So as usual in Portland, Oregon, Spring is, of course, teasing us with it's perpetual lateness.
The birds are just starting to chirp a happier tune in the wee morning hours...the sun is just beginning to peek out a bit more...and fresh new starts are popping up in the yard. It's time to brighten up, and look to fresh, new looks. So this parcel box arrived at the perfect time.
The entire Suzabelle Collection is so pretty, classic and refreshing.
These pieces will brighten your wardrobe and your spirits.
Plus I want you to feel good about your purchase so I'm marking them down.
Just because I'd love for you to find the lowest prices on Suzabelle at Anne Bocci Boutique.
Happy Spring!