(Mention you read this blog, and take $20 off any NEW Suzabelle item)
Okay, how darling can a coat get? Well, indie designer Suzabelle knows, and she makes it perfect, because it's all in the details. One look, and I could see the difference. Yes, one definitely won't find these at the mall...Suzabelle, only in little boutiques, like mine.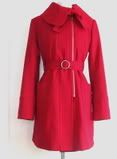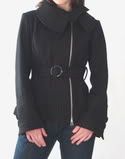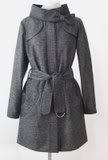 And more lovely coats, sweaters, and dresses from Suzabelle, available at Anne Bocci Boutique in Multnomah Village.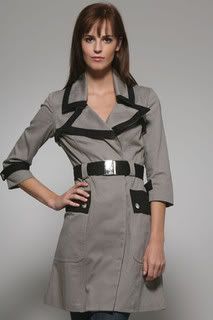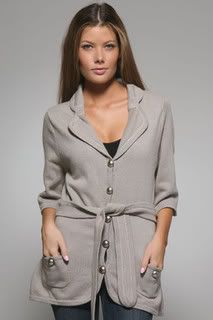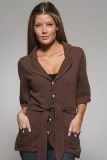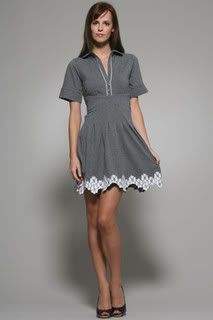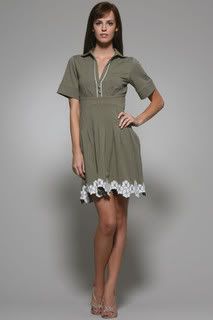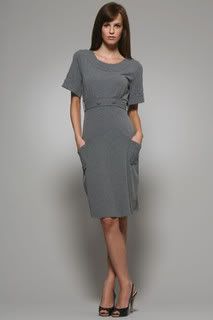 Yes, you definitely won't find these pieces at the mall...
Handcrafted original photo belt buckles and jewelry by Portland artist, Misha Ashton.
They're made from abstract pieces of her lovely photography. Buckles $39 , Necklace $40 and $22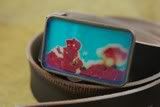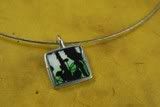 And, hand sewn clothes... like this designer fleece pullover by IPSEITY.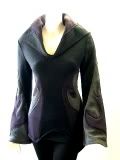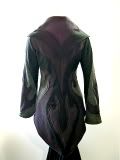 Portland's own Ipseity designed pullover, $172, is so unique...because it's designed right here in Portland, and made from soft fleece, and 30% of which is made from recycled pop bottles.
Nope, you won't see this at the mall.
In a teeny, tiny boutique located in SW Portland Oregon, right in the heart of Multnomah Village, you'll find lots of treasures.
The best thing about it, possibly, is that you'll find original handcrafted apparel (many of which are from small production lines), unique jewelry and art.
In the very recent words of Willamette Week, "Multnomah Village is so cute it's criminal. The stretch of Capitol Highway lined with coffee shops, cafes and quirky stores looks like it's been plucked from a small European town and planted in Southwest Portland."

It's true, the little street right where my boutique is located is like a throwback to days gone by, there's an undefinable sweetness to it.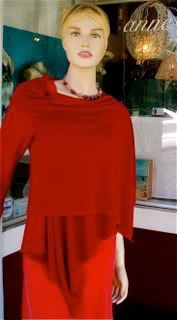 I just got in this red sweater cape, and have almost completely sold out. It's $69 and made in the USA and is 60% rayon, 30% wool and 10% acrylic. Plus the red is a good red with more of a red/blue hue rather than red/orange.
* * *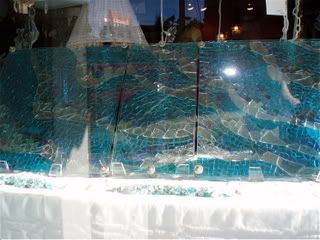 "3-Parts Water" mosaic. $750. My featured glass artist is Dorene Schmitz. Her three-part glass mosaic piece reminiscent of waves crashing against the shoreline. Schmitz has worked with glass for almost 10 years and likes the idea of updating age-old mosaic techniques; by working with glass as the medium, perhaps giving it a more contemporary/industrial edge. Using metal hardware pieces to display the finished work, helps to accomplish that idea.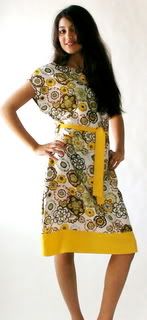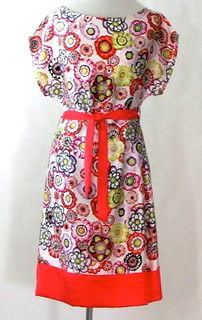 Suzabelle, independent designer from Seattle just sent me these luscious silk dresses. They're perfect for a summer party or wedding. Just tie at waist with her silk belt or add your own belt, slip into some sandals, and you're off. $198, SALE $139
Sheesh, I realize I've hoarded a handful of fun things that I haven't taken the time to share with you.
In the spirit of playing nice and sharing, here are more of my summertime favorites...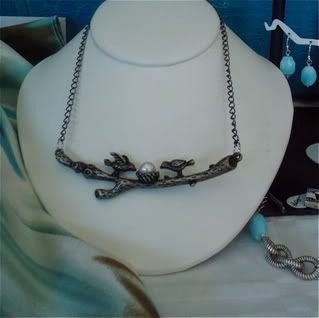 Two birds on a branch caring for a pearl egg. Necklace. $46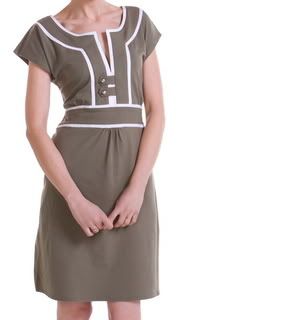 This Suzabelle Yukata dress in jersey is as soft as a favorite t-shirt.
Slight gathering at the bust and waist emphasizes and hides all the right places. And it's on SALE, $50 OFF original price.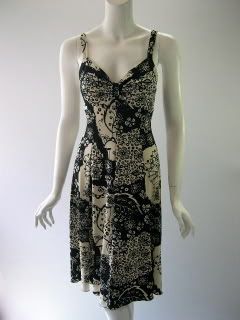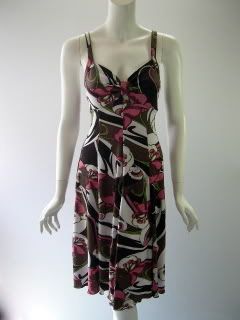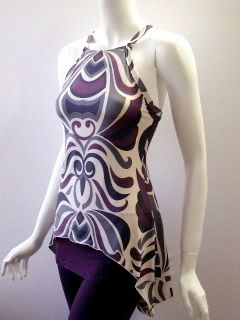 Keri Roberts, designer of the lovely, feminine Ipseity apparel line, stopped by and brought in these fun pieces.
Here's to some of my artists and designers who always amaze me with their talents.
Fine handbags by my leather goods designer, Gordon Dent. Found exclusively at the boutique.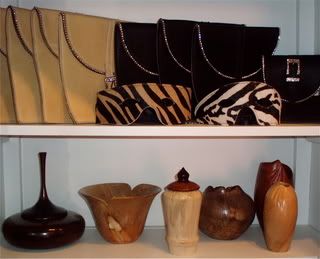 Fine hand-turned wood by Dr. Carroll Simpson.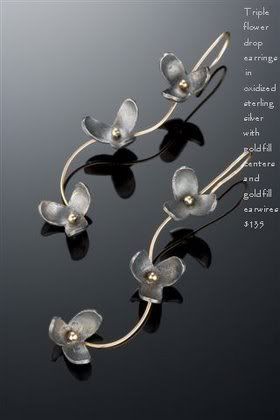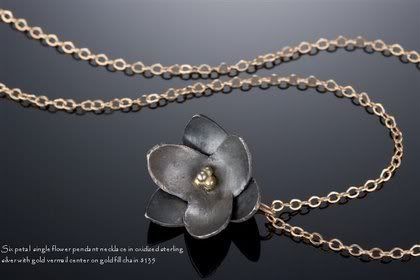 Kate's Daughter's sterling silver, hand-soldered, necklace and earrings by Portland metalsmith, Carolyn Walker.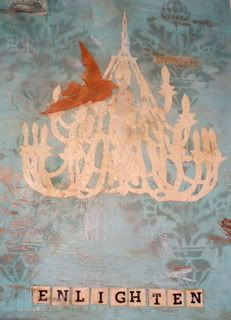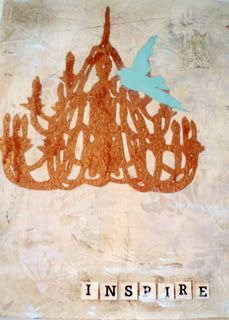 Enlighten and Inspire by Barb Jones Griggs.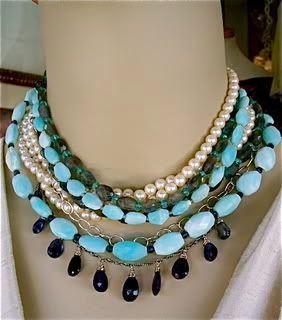 I recently met with Gopal, my gemstone dealer from New York, and bought yummy Peruvian Opals, Blue Iolite and Ocean Apatite.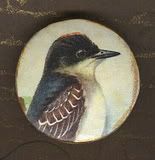 Handmade bird buttons. $8 or $10.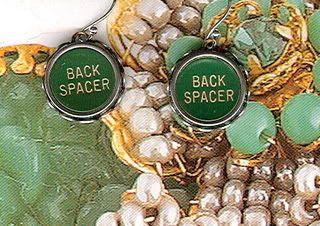 Know a book lover or writer? Vintage typewriter "Back Spacer" earrings on sterling wires.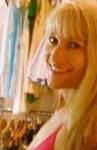 Happy rest of the summer...
See you,
email: annebocci@yahoo.com
503.313.2839 cell
503.452.3711 boutique
Hours: 11:30 to 5:30 pm Tuesday through Saturday
11:30 to 9:00 pm every First Friday of the month
http://www.annebocci.com
http://www.annebocciboutique.com
xo
anne